WHAT CAN I HELP YOU WITH?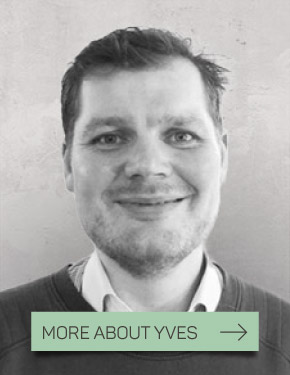 – Facilitator
– Conflict Resolution
– Storyteller
What do other members of Team Loodens say about Yves?
We all did a personality test and Yves came out as "the Campaigner". It seems that coming up with creative ways to Reinvent Conversations, implementing next steps and creating visions for teams come easily to him. After thirteen years of leadership positions in organizations with a social purpose, he enjoys learning from the things that didn't work in the past. By researching how conversations can be reinvented and transforming his own experience into stories, he is able to make seemingly complex ideas simple. His passion is connecting with partners outside of Team Loodens, to learn from their perspective and to improve our tools.
­
Can you share something about how you got involved in Loodens?
Yeah, this whole journey started a couple of years ago with a question: what does it take to be honest to each other? I had a sense that I wasn't getting the feedback from people that I needed to develop myself fully and I didn't know how to get that info.
So I co-created an app prototype to receive anonymous feedback from people around me. As I was ready to get to the next version of the app, I went through a series of events which were pretty stressful for me. These events helped me to go to another level and inspired this question: Why do we need an app for being open and honest?
I started to go around the world doing research, or me-search, interviewing organizations and individuals. Through reading and interviewing I discovered the power and fun of NEEDS. I didn't really have a great awareness about my own needs, or feelings, let alone those of others.
I started to see how some of my habits to satisfy my needs were at the cost of other people's needs. Also, I had been satisfying my needs at the cost of some my own needs, like consideration, care, love and understanding. This realization triggered a bunch of pain, sadness and grief in me.
So I wrote those habits down, dozens of them, which were not serving me and started to practice communicating and living in a more mindful way.
Then I started to do some training in Non Violent Communication (NVC) in Amsterdam and in the US.
I want to pause to express my gratitude for the many teachers that have helped me along this bumpy road. The people that were willing to share their wisdom: both NVC and other trainers, the hundreds of people I met and interviewed around the world, and my friends and family. When I think back on the support they gave me and the patience they've had with me,  I feel very grateful 🙂
As I was developing my awareness and skills around conversations, my buddy Erik got enthusiastic as well and we teamed up to do more research. One thing led to another and now Joeri, Kristie, Erik and I have become a team.
Coming back to my original question, what does it take to be honest to each other, I currently believe that awareness and conversation skills are two essential components. So that's what Team Loodens and I want to contribute to anyone who wants more honesty, balance, compassion and shared understanding in their life.
What do people say you are good at helping them with?
Some people have said that I bring a perspective and a creativity to their world that helps them get peace of mind, courage and the energy to get from a place of stuckness to a place of moving forward.
What perspectives do you bring?
I am or have been an entrepreneur, team lead, volunteer, boyfriend, housemate, brother, son, player of ultimate frisbee, player of music.
What qualities would you like to have more of in a year from now?
I would like to develop more capacity for compassion and balance. Especially when I'm triggered, I still want to be able to connect to my intention that my needs matter just as much as the other person's needs. Sometimes I focus on the other person's needs, being less mindful of my own. Or the other way around.
What is your favourite question to Reinvent Conversations?
"How can we make this more fun?"
Why do people enjoy a conversation with you?
Some people have said they feel calm and peaceful when they have a conversation with me.  They have a sense that they're being accepted for who they are, and they experience me being comfortable in my own skin.
Do you have a thought that you haven't expressed and might want to get out now?
Yeah…The people who teach it, usually need it the most 😉
­